Sometimes a product or service has your name on it.  Literally.  It happened to many of us thanks to Coca-Cola's recent "Share a Coke" marketing campaign.  Bottles were printed with various names on them and distributed at random, creating the fun challenge of finding your name or a friend's name on a bottle.  My friend Stefan, the Maître de Cabine (Cabin Chief) at a major European airline sent me this photo which is untouched and unaltered.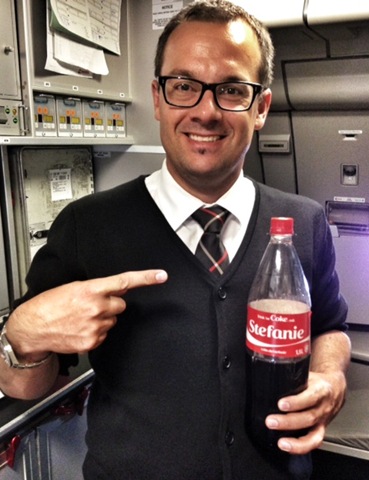 What's really clever is the clear note of customization, while the product and branding is as consistent, familiar and unique as always.  The value of striking this balance has been on my mind, since a recent interview High-Profile Clients—Worth the Hand-Holding? .   I was quoted on anticipating clients' needs and news to provide them the maximum value with every conversation and project.
When I showed Stefan the article, he replied, "Exactly.  On my flight today from Chicago to Zurich, I had 229 passengers with 229 different needs."  His comment made me realize: being the in-flight service manager for overseas flights may be the ultimate intense client relationship situation.  How many of us are within a few steps of our clients for 8 or 9 hours at a time ?!  Intrigued, I asked Stefan how he personalizes service while adhering to all the airline rules and regulations.  His response reflects the high-touch elegance many of us associate with Europe:
"When preparing for a flight, I review the passenger list so I can personally greet our top customers, and maybe chat a little.  The passengers often feel honored that "the man in the uniform" not just only asks "coffee or tea?" but is also informed about them.
We have to find out how people "tick" and what they want most.  After many years, I've come to understand and train my staff to recognize:
t Bogorodsk ciprofloxacin otic price he "gourmet" is on board to eat and to try every single wine, wants to enjoy our in-flight service and wouldn't mind an 8-hour meal service!
https://mamahazels.com/2273-gay-singles-resorts-58093/

the "worker"

  looks at a laptop from take-off to landing. Sometimes when you look at the screens, you see they're actually playing solitaire, but they usually don't want to be disturbed and are very reserved.

Anda z pack prescription writing the "sleeper" just wants to sleep. They might eat something – however it has to be served (and cleared away) ASAP.
the "communicator" needs a lot of attention, rings the bell all the time, has a question every time you walk by and wants to know everything. They also enjoy it very much to talk to the Cabin Chief as they feel it makes them look important.
The skill for us is to find out which category the passengers belong to … because you sure don't want to talk to a "sleeper" about the weather!  A "worker" sitting next to a "communicator" is a red flag we need to notice.  Of course, there are many other categories and people belong to more than just one category. For example, a combination "gourmet/sleeper" can be challenging!" 
Right there, Stefan shows us how to take the concept of market segmentation and put it straight into action. 
buy periactin without prescription Wilmersdorf Now, for those of us down on the ground … how can we better customize our services?  In your work, "customers" might be colleagues in other divisions, contacts at strategic partners, or multiple bosses.  You may not be able to diversify bottle labels, or offer extra legroom, but we can still find out and respond to what different people want most. 
Here's an example from my experience: 
An executive client with over 200 people reporting to her and a heavy travel schedule requested I reformat our post-meeting action plans.  She threw down the challenge, "no more than three finger rolls, Stef."  She meant how many times she had to touch her screen to scroll through the email on her Iphone.  Yet, she always had multiple projects in play at once and it's my job to capture all cogent points and follow-ups.  Thanks to her, I added color, subsections and weblinks when helpful.  I've have been using this condensed format with all my clients ever since.  Guess what?  They all love it!
azithromycin prescription Three questions to kick off your own client customization campaign:

1. If you were to categorize your clients according to traits and preferences, what would be the three or five meaningful groups?
2. How could you respond differently to each group, while maintaining consistent product/service quality and branding?
3. What questions or opinions might you ask to better tailor your communications, reporting or service approach – while maintaining the essence of what makes your business special? buy codeine with promethazine Al Qiţena

For a strong final quarter of 2013, let's all keep in mind: It's not just business, it's personal!  Please contact me with any examples you'd like to share about how you make your customers feel like your products or service has their name on it.