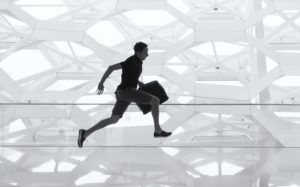 Is the chorus of the classic hit "Should I Stay or Should I Go?" by Clash running through your mind?  Questions about job changing are top of mind for many as reflected in Joann Lublin's recent article "Job-Hopping Executives No Longer Pay Penalty" in the Wall Street Journal.
When Joann interviewed me on this topic, her opening question was "Is there now less stigma attached to job hopping since it's so rampant among millennials?"
My response – while job hopping has traditionally been seen as a red flag by prospective employers, they are now more open to hiring candidates who have recently changed jobs due to several trends:
Online recruiting: candidates are much more quickly and easily identified and targeted by recruiters and companies. This means changes may be viewed as a response to a great opportunity rather than an impetuous action.  Several of my clients have been contacted soon after we update their LinkedIn profile with their new job information.
Organizational decisions unrelated to performance: corporate restructuring, outsourcing or relocation. All are easily verified by hiring managers.  Some people move due to the reality of losing their jobs due to these events, others move in anticipation of them.
M&A or a private equity business integration: When companies merge, they may eliminate dozens of jobs without any deep analysis.
In all of these situations, job change is easily explained and not premeditated.
While not the right choice for everyone at every moment, I've worked with clients at all phases of their careers who have changed jobs in fewer than three years, made successful transitions and are pleased with their choices.  Below, I offer some of the advice and questions we explore when making the decision to make a career move soon after a previous change.
5 Questions Before Making Your Move
Your career advancement decision may not be easy, so let's think it through:
1. Is the timing better today, or are you better off bolstering your potential and setting the groundwork for a move six to twelve months out?
Lack of demonstrated promotions or advancement within an organization, may lead to doubts by future leaders about the wisdom of investing in your professional development.  On the other hand, you may want or need to make a quick move to avoid a problem that is brewing.
Here's an example.  An Accounting Director with decades of experience lost his job of 14 years, along with 400 other people who were "restructured out" the same day.  After intensive coaching discussions, working through my ebook program, and then interviewing he attained a position at a thriving financial firm, with more responsibility and more upside than he had before.  He was even promoted within months, practically unheard of in a privately-held company.  Sounds great, right?  Well only 11 months later, that company decided to move their operations to another state.  Relocating was simply not an option for him due to family obligations.  After we reviewed carefully together, he decided to start looking proactively before the operational move took place – a tough choice because there were financial incentives to stay.  His new search landed him in a new position as Controller, thus achieving his five-year objective within only two years!
2.  How does your work history provide an advantage in the specific role and organization you are considering, and how can you speak directly to it?
Hiring leaders may be understandably skeptical and concerned about bringing on a new team member with a history of leaving jobs quickly.  From their perspective, what the role requires  and the why the candidate moved are critical.  Leaders looking for someone to fill a role with a substantial learning curve and desired longevity would prefer a candidate who has demonstrated the ability to roll with the business cycle punches.
In other cases, leaders may need a person who can hit the ground running, adapt quickly to new environments and thrive in changing circumstances.  If a professional has successfully moved from one role or organizational culture to another, it may indicate an ability to quickly get a read on the new environment and the leader's priorities.  This could be useful if a business is doing a strategic assessment, or engaged in an M&A or private equity investment.
My friend Adam Weiss, an executive recruiter put it succinctly, "Context is everything. Candidates need to communicate why their resume has a logic to it, not just bouncing around."
A candidate with multiple recent technology jobs might say to an interviewer:  "There are two ways to approach business systems integration: 1.) incrementally with rolling milestones or 2.) extended planning and testing followed by a clean cutover.  Over the past three years, I've done it both ways, at two different companies, and can work with your team to fully vet the pros and cons of each approach."
3. How will your reasons for moving influence your reputation with and the impression you make on your current network, hiring interviewers and future colleagues?   What are the "optics" and how will you explain your decision?
Will you be seen as a disloyal or a potential personality problem or will you being seen as ambitious and ready to take the next step?
Maybe you moved because a boss moved and took you with her.  This indicates loyalty and value.  Trading up quickly may also show ambition and talent.  Sometimes a situation even combines both decision factors.
Kristin is a graphic designer who is very motivated to excel.  A year after graduating and taking her first job with a small design firm, her boss moved to a nationally known firm with bigger clients, and invited her to interview at the new firm.  Kaitlin worked through the pros and cons, she interviewed, got an offer and accepted it to attain greater exposure and broader technical skills.
Samir was working for a start-up related to alumni networking, when his alma mater contacted him with a terrific alumni relations opportunity which he accepted.  A year and a half later, the organizational landscape changed in a way that limited his options for growth.  When a recruiter called him suggesting a focused search, he pursued it and landed a leadership role at a leading European university.  Now at 29, Sam has reached his goal of rising from staff to management and taken his game to the next level.  His decision path is clearly understandable and the results impressive.
If you aren't convinced, you won't be convincing.  Your logic and the way you communicate it will influence how people react, so spend the time in thinking it through, getting outside advice and practicing until you sound, and really are confident and certain.
4. What will you in gain career and financial advancement by moving versus staying across these factors:
Financial benefits: salary, bonus, incentives or options based on longer-term success or tenure ('nuff said).
Job promotion and professional growth: Where will you achieve your current objectives in terms of industry, type of company, or focusing on more exciting and marketable capabilities?   You may want to move to shift from a general HR role to becoming a training specialist, or from being an Accounting Director to running the IT aspects of M&A integration or transitioning from consulting to a corporate leadership role.
Credentials or project leadership quals: There is a reputational and emotional risk to walking away before leaving a positive lasting impact.  You may want to follow through on initiatives you started to own the results or impact of the work.  When you apply your knowledge to advancing others, you often elevate your own position and influence as a result.
Status and culture of the organization or company
Opportunities to network and establish connections with colleagues, clients and strategic partners
Learning from your current or potential new boss or mentor
5. What will you gain personally by moving versus staying?  Consider these 3 factors:
Job security and satisfaction: Emotions and practical realities are important. Do you feel an ease and sense of alignment where you work now?  If you've recently lost your job, where will you feel more secure?  If you've been in a job for years and have enough saved for retirement, will it feel great to have a fresh start?
Non-financial benefits: What matters to you and what is available? Tuition reimbursement, superior healthcare coverage, corporate perks and activities?
Life balance advantages: Achieve a life balance objective – relocating to a more desirable place to live, attaining more flexible hours, or fulfilling a personal value such as improving conditions and opportunities for production workers at a manufacturing facility.
If you carefully take the questions above into account, you're much more likely to feel solid and secure when answering that important musical question "Should I Stay or Should I Go?"  Good luck singing your own career tune!
Stefanie Smith leads Stratex (www.stratexcoaching.com), an executive consulting and coaching firm based in Manhattan, providing project leadership, customized workshops and coaching programs to advance executives and their teams to the next performance level. Her ebook: The Power of Professional Presence: Get Their Attention and Keep It!  is available on Amazon.com, iTunes and BN.com.