Last evening, I was at gathering at my friend's favorite pub. In addition to the good cheer and drinks on the table, the question arose, "What is the best way to start off strong in 2013 – from a professional standpoint?"  The speaker then faced me and continued, "Across all your consulting and coaching interests, what message are you are most passionate about conveying at the start of the year?"
It was a simple, yet enormous question.  On this, the last workday, and in fact the last day of 2012, I'd like to share my considered reply: Treat your career advancement as a continual learning process, but in a positive way – to benefit yourself, enliven your mind, and increase your enthusiasm for what you do and how you contribute.
For example, I have never quite understood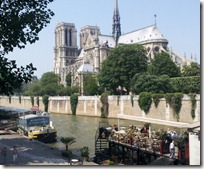 about the breakthrough engineering in Gothic cathedrals that enabled the stunning stained glass windows and graceful ceilings onlookers have enjoyed for centuries since.  No matter how many tour guides in how many European cities pointed them out.
On a recent trip to Paris, I decided to skip the tour and the guidebook, and just try to soak it in from a café barge across the river. My colleague Michael suggested my next book will probably be called Drinking Things While Looking at Churches in France.

On another trip, on the way back from a beach day in Galicia, Spain, we stopped to see the famous cathedral of Mondoñedo. The signage mentioned the unusual combination of Romanesque, Gothic and Baroque styles. I tried to sort it all out, but in the end, just enjoyed looking at the stained glass, marble courtyard and stunning doorways, resigned to take a course someday.
Then, last week, I unexpectedly came across an incredible NOVA episode about the secrets of French Gothic cathedrals, starting with St. Denis and leading up to Notre Dame. I was delighted because it was done as if the director knew how long I'd been wanting to understand, and exactly how to make it intriguing and accessible at the same time. 
I would like to propose that the same sense of fun and curiosity can apply in business.   
What about your own professional adventure ?  Amongst the other performance and financial targets you'd like to reach, add in something you've simply always wanted to do. For yourself, first and foremost.
If you'd like to share your ideas with me, please where can i buy robaxin in canada. All the best for the new year !